About Pilot Bill Oefelein
NASA Biography
http://www.jsc.nasa.gov/Bios/htmlbios/oefelein.html
NASA - Preflight Interview: Bill Oefelein
http://www.nasa.gov/mission_pages/shuttle/shuttlemissions/sts116/interview_oefelein.html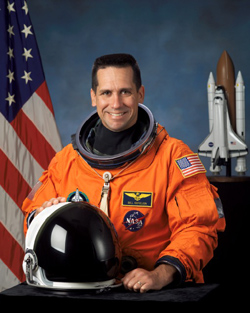 Quick Facts About Bill Oefelein

Born

March 29, 1965
Fort Belvoir, Virginia
Occupation
Pilot
Rank
Commander, USN
Selection
1998 NASA Group
Missions in Space
First - STS-116
December 2006
Home

Anchorage, AK

Family
Two Children
Pilot William Anthony "Bill" Oefelein is Alaska's first astronaut in space. Bill Oefelein was born March 29, 1965 in Fort Belvoir, Virginia, but considers Anchorage, Alaska to be his home. He graduated from West High School in Anchorage, Alaska in 1983. Oefelein received his Bachelor of Science degree in Electrical Engineering from Oregon State University in 1988. Later he earned his Masters of Science degree in Aviation Systems from the University of Tennessee Space Institute in 1998.
Bill Oefelein received his commission as an ensign in the United States Navy from Aviation Officer Candidate School in Pensacola,
Florida in 1988. He entered flight training in Texas in 1989 and was designated a Naval Aviator in September 1990. Oefelein has logged over 3000 hours in more than 50 aircraft and has over 200 carrier arrested landings. Oefelein attended the US Navy Fighter Weapons School, TOPGUN, and was assigned as the Squadron Air-to-Air Weapons and Tactics Officer.
Selected by NASA in June 1998, Oefelein reported to Johnson Space Center in August 1998. Having completed 2 years of training and evaluation, he qualified for space flight assignment as a pilot. His first mission in space will be STS-116 in December 2006. Oefelein is assigned as Pilot on STS-116, an assembly and crew-rotation mission to the International Space Station.
Bill Oefelein has two children. His interests include weight lifting, wake and snow boarding, snow skiing, bicycling, fishing, backcountry hiking, and playing the guitar.