Meet Pilot Bill Oefelein
Pilot Bill Oefelein became the first Alaskan in space on STS-116, when the space shuttle Discovery lifted off from the launch pad on December 9, 2006. Visit this web site often to read Pilot Oefelein's blog where he answers questions from Alaskan students and shares additional information about the mission.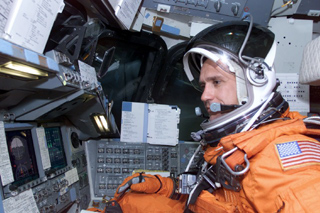 This site is part of a three-month education program sponsored by Alaska Distance Learning Partnership, Challenger Learning Center of Alaska and GCI SchoolAccess. This program includes live videoconferences between Alaska students and Commander Oefelein which you can view on this site.

GCI SchoolAccess and its partners, Alaska Distance Learning Partnership (ADLP) and Challenger Learning Center of Alaska (CLC) have been working together over the past five years to partner with NASA to bring exciting learning experiences to the students of rural Alaska, who frequently are isolated by geographic barriers and do not have the same opportunities as their urban counterparts. Thanks to this partnership, students in some of the most remote areas of our state have been fortunate to have learned directly from astronauts on board the International Space Station via live video links into their classrooms.
Over the past five years, GCI SchoolAccess has sponsored visits of NASA officials to Alaska schools, including Chief Financial Officer Gwendolyn Sykes and Pilot William Oefelein – both of whom hail from Alaska. Other astronaut visitors were William Readdy, a three-time shuttle pilot with 672 hours in space, Rex Walheim, John B. Herrington and Leland D. Melvin.
The videoconferences and in-person visits have been catalysts for exciting math and science curriculum development and lasting partnerships with Alaskan educational institutions. Also during this period, three of Alaska's schools have been named members of NASA's Explorer School Program.